"To be beautiful means to be yourself. You don't need to be accepted by others to accept yourself." - Ralph W. Emerson
Introduction:
If done correctly, using the best methods, permanent makeup can be a great option for senior clients looking to enhance their look or simply save them time. I will explain below why permanent makeup is a great alternative for some older patients, the method that is best used, and why it works so well.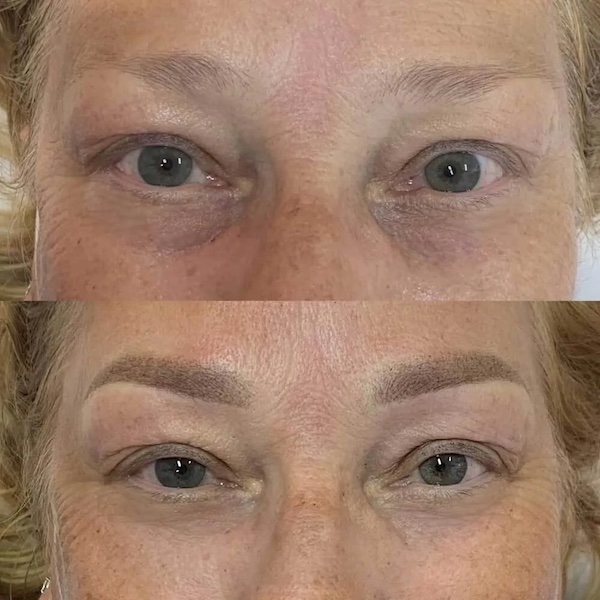 Senior Powder Brows - before and after! 💥
---
Permanent makeup or PMU is useful for seniors
Saves time and can make the lives of older women easier in other ways. Deteriorating eyesight can make makeup application complicated and frustrating, as can hand tremor, the two essentially harmless, but annoying symptoms of aging.
As we age, the notion of body image and the desire to look (and feel) our best doesn't vanish, nor should it. Permanent makeup for the mature woman can have great physical and psychological benefits and boost the quality of life.
Microblading and older clients
Mature skin is generally quite thin and the fine lines of microblading can blur the strokes, so microblading can cause permanent scarring with its manual technique, and give unsatisfactory results – the strokes can become a blurry mess.
So although it's not impossible if your skin is not too thin, you might want to consider the alternatives.
A much better alternative than microblading for seniors is powder brows.
Done with an electric device, this technique is safer for mature skin, and it gives better results.
However, the effects are different from microblading because there are no strokes drawn, juts a powdery shade that looks like wearing brow makeup. That's why some seniors are reluctant to go for it out of fear that it won't look natural. If done right, powder brows for older ladies can look amazing!
Permanent makeup is a great way for older women and men to minimize or reverse some of the effects of aging. It can give you back your brows.
For anyone struggling with insecurities related to aging, or anyone who wants to maximize their femininity or even masculinity, permanent makeup is a practical way to boost your confidence!